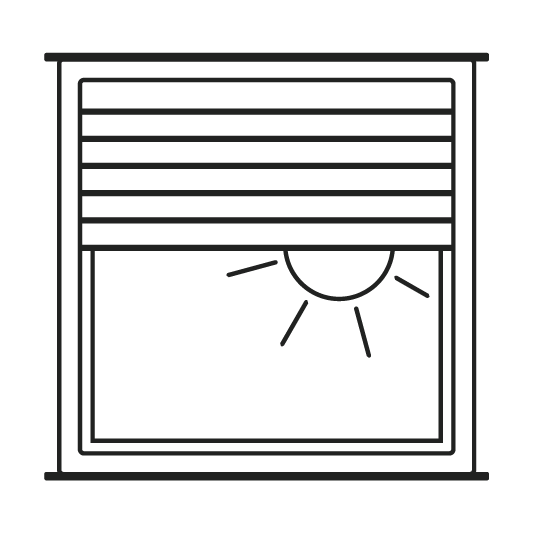 Roller Shades
Roller shades have become a top-selling product line in the window fashion industry. Achieve a clean, contemporary look while providing light control and privacy. Flat panels of fabric or vinyl are attached to a roller mechanism for easy lifting. Roller shades can vary in opacity for coverage tailored to your preferences.
Cellular Shades
Cellular or Honeycomb shades use hexagonal, or "honeycomb-shaped," compartments to provide insulation and privacy. This shade style can reduce your home's energy consumption by trapping heat in its hexagonal chambers, keeping it warmer in the winter and cooler in the summer.
Soft Treatments
Soft treatments refer to fabrics typically used as drapes. Practical as well as beautiful, fabric treatments can be added to soften more functional window treatments or to hide motorization hardware. Soft treatments can be automated as well with a drapery track controllable with other automated lighting, shading, and technology.
Roman Shades
Roman Shades combine the classic look of a custom drapery with the convenience of a shade. These corded shades form horizontal pleats as they are raised, forming an elegant stack at the top of the window. Endless fabric and construction options allow for the creation of a truly custom window treatment.
Handwoven Shades + Bespoke Fabrics
Every shade we install is custom to your home and your windows, but bespoke fabrics take that customization a step further. We pair handwoven textiles from Hartmann&Forbes with Lutron shade systems for one-of-one shading solutions. We can also help you incorporate your own fabric into your shading design if you have a particular fabric that you would like to use.
Custom Shade Pockets + Mounting Solutions
Working closely with your architect and builder, our team can design and draft custom shade pockets to fit nearly any mounting challenge. From full blackout systems to perfectly aligned coupled systems, your shade installation will be tailored to your exact specifications.
Additional Shading Options
---
Blinds
Horizontal and vertical blinds are simple, highly functional window treatments. Horizontal or vertical slats tilt to offer varying levels of light control and privacy; when closed they provide insulation and room darkening. Blinds are offered in a variety of design choices and materials including wood, metal, composite, bamboo, and now leather.
Horizontal Sheer Blinds
The decision to invest in horizontal blinds or solar shades can be a difficult one, and horizontal sheer blinds are the perfect compromise. Horizontal sheer blinds combine the privacy and energy-conserving benefits of blinds while preserving the view and softening the light as a solar shade would.
Sliding Panels
Sliding panel systems give clean lines and a sleek, contemporary look while offering the perfect solution for large windows and sliding doors. Hanging fabric panels move along a horizontal track. When closed the panels create a smooth, tailored surface, and when opened they stack neatly to the side.
Skylight Shades
Roller and Honeycomb shades can be adapted for use in a skylight opening. These treatments control the amount of sun exposure you want through your skylight. Light-filtering options reduce light and heat passage into your home, while blackout systems can create a darkened room.
Specialty Shapes
Specialty-shaped trapezoidal, angled, curved, and tilt-turn windows can be treated with a spectrum of shading options, no matter the window's location. For the first time, enjoy the beauty and functionality of window coverings on all the windows in your home.
Exterior Shades
Exterior sun control products are attractive options for controlling light and heat, as well as creating enjoyable outdoor living spaces. Exterior shades provide sun protection and increased privacy in your favorite outdoor spots: porches, patios, decks, pergolas, sunrooms, gazebos, and more.
Design Consultation
---
Ready to get started? Request a design consultation from one of our shading experts to create a shade design that is perfect for your project.