Delicately Scaled Modular Lighting
---
Sonneman Suspenders is a delicately scaled, modular system of interconnected elements and suspended LED luminaires.

Suspenders can be configured and customized as individual lighting sculptures or as a tiered web of infinite scope and variety. The Suspenders system harmoniously integrates functional and decorative luminaires, providing the ability to add focused light or the soft glow of indirect illumination to any application.
Configuration Gallery
---
Suspenders are designed as one of the following configuration categories. Explore each one to find the best starting point for your project.
Truss
Truss
Dramatically powerful and lightly scaled, a range of lighting options can be fixed to or suspended from the Truss Power Bars. In addition, large Planar Grids can be suspended from Truss Hangers, adding to the structural stability and visual impact of the configuration.
Freeform
Freeform
Not restricted to a fixed-angle relationship, intersecting Power Bars can be freely rotated with their connection to each other in abstract and dissimilar angled patterns. Affixed to or suspended from a ceiling, this new free-angle connection challenges the imagination and individual vision of creating artful arrangements of functional and decorative lighting. Free at last.
Linear
Linear
Linear Power Bars in tiered or in-line configurations form a delicately scaled, modular system. Linear configurations can be used in a variety of spaces, scaling from a single linear bar with a few luminaires to a custom in-line configuration spanning a large space.
Zig Zag
Zig Zag
Power Bars are suspended at right angles to each other, connected by perpendicular Power Bar Hangers. Zig Zag arrangements can be used to form a linear pattern, or combined and oriented to form a broad composition arrayed across the plane of an entire ceiling.
Tandem
Tandem
Two parallel Power Bars set in tandem form a broader linear volume by echoing the repetition and cadence of each other.
Tri-Bar
Tri-Bar
Tri-Bar configurations utilize a three-bar configuration in 120-degree orientation to each other with a fixed center hub. Use a single Tri-Bar to build a fixture of luminous simplicity, or pair the Tri-Bar with linear elements to create a more complex modular system.
Ring
Ring
Suspenders Offset Ring System offers the ability to build a virtually limitless range of patterns and configurations of varying heights and widths. Rings can also be used in Single or Double configurations for systems that suit smaller spaces.
Grid
Grid
Intersecting Power Bars form a linear planar Gridscape, which can be constructed in a variety of overall sizes and cellular scales. Any of dozens of Luminaire options can be fixed to or suspended from any position along the intersecting Power Bars.
Gallery Matrix
Gallery Matrix
Seen from below, the right-angled interconnection of tiered elements composes an orderly and precise Gallery Matrix configuration. It is an intricate web of texture and interest that is expandable in length, width, and height.
Surface Mounts
Surface Mounts
Surface-Mounted Power Bars provide a minimal space between the ceiling and the Bar. This new feature allows high-performance and decorative Luminaires to be bar-mounted close to the ceiling or suspended from the Power Bars.
Wall Mounts
Wall Mounts
No longer limited to ceiling-mounted configurations, Suspenders can now provide its functional and aesthetic lighting variety to the vertical plane of walls in linear or intersecting configurations.
How it Works
---
The system is composed of three primary types of elements: horizontal elements called Power Bars, vertical elements called Hangers, and luminous LED elements called Luminaires. These elements are combined and connected to a Power Feed to form a limitless number of LED lighting sculptures.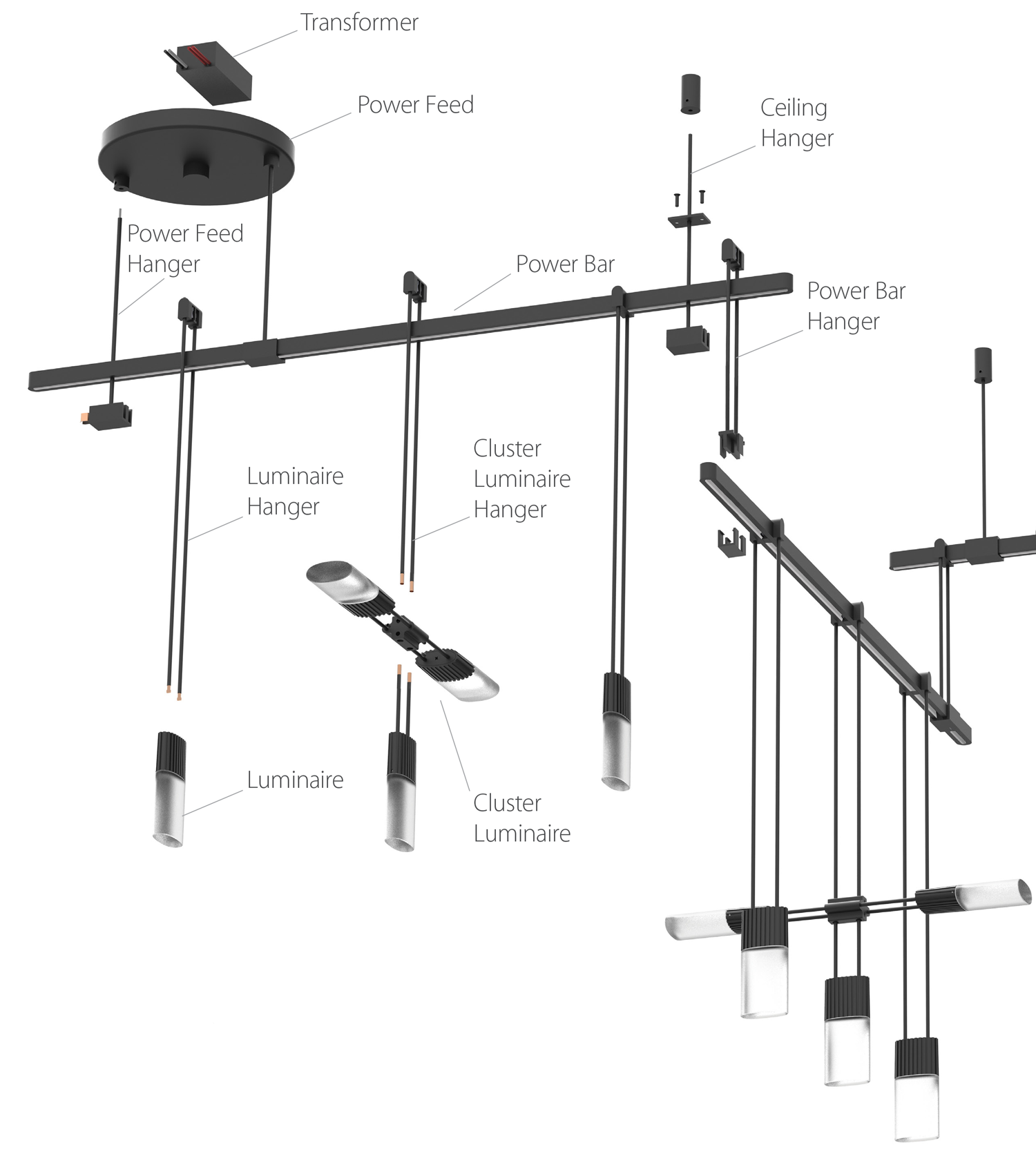 Luminaire Options
---
Luminaires are the luminous elements for Suspenders. All Luminaires have a warm white color temperature (3000K) and are minimum 90CRI. Choose from Decorative Luminaires or Suspenders Precise depending on your lighting needs.
Decorative Luminaires
Decorative Luminaires are available in multiple styles (Single Luminaires, Cluster Luminaires, Cylinder Luminaires, Light Bars, Ladder Lights, and Monoline Pendants). These Luminaires project LED illumination through diverse forms, colors, and treatments of glass and acrylic.
Suspenders Precise
Suspenders Precise - introduced in 2017 - expands the scope and utility of Suspenders with the addition of new systems and components that offer increased functionality, configurations, and possibilities to the Suspenders system. Suspended from Hangers or fixed flush to a Power Bar, Suspenders Precise components provide up, down, and amiable directional light sources in spot and flood options, as well as direct and reflected ambient light sources; components screw, twist-, and snap-lock in place, forming unified interlocking assemblies.
Ready to Begin?
---
Sonneman Suspenders will be featured in an interactive display at our Boston Design Gallery, opening soon at the Boston Design Center. If you'd like to see Suspenders in person before we open, please submit a demo request using the button below. Our designers would be happy to meet and discuss your project with you.